Welcome to the Modern Foreign Languages Department
Languages
spanish curriculum INTENT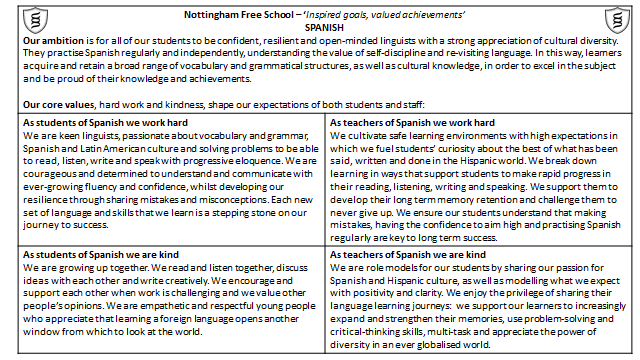 ambitious curriculum
Our ambitious curriculum covers a wide range of culturally engaging knowledge and authentic literature to support students' intellectual, personal and social development. These are arranged into five themes; with elements of each interleaved throughout the Key Stage 3 and Key Stage 4 curriculums from years seven to eleven. Some examples of topics within these themes include education in Spain and Latin America, travel, healthy eating, social media, Hispanic customs and festivals, trending topics and relationships. Within each topic, there is new challenging vocabulary introduced alongside prior vocabulary consolidation, as well as carefully selected key grammar, which is regularly recalled and tested in writing and orally.
Themes covered
​Identity & cultural life
Local area, holiday & travel
School life
Future aspirations, study and work
International and global affairs
HOMEWORK
Each week, students will have a selection of words or key phrases to memorise and some knowledge organiser grammar learning to complete. They can use their booklets or go on Quizlet, which is an online interactive way for them to practise and memorise the vocabulary.
Students will be given a new vocabulary booklet each year and are expected to look after the booklets and bring them to lessons for their whole time at NFS. The key to success is repetition; practising vocabulary and verbs from these booklets little and often several times a week, with the aim of being able to know all of the words and verbs from memory.
The weekly homework challenges in Spanish prepare students for successful futures, equipping them with numerous skills including: independent learning, memorisation strategies, problem solving, recall, self discipline, time management, setting targets and building resilience to failure.
PROUD
We take pride in our work and our student's books in Spanish are exemplary. Students are encouraged to present their work well and respond to teacher feedback in order to improve the accuracy of their work and make rapid, sustained progress.
Pen Pals
Mrs Barrett has set up a link with a Spanish school in Castellón called Ies Matilde Salvador and the students will be given the opportunity to set up pen pal email correspondence with some Spanish students from this school. We feel this is invaluable for them to experience real-life situations for conversation and interaction with young people from a different culture.
Trip to Spain
Due to the air strikes and then the pandemic, sadly we have not been able to run a trip recently. However, under normal circumstances, GCSE students are given the opportunity to travel to Valencia in Spain to put their Spanish into practice and to meet and interact with some Spanish young people, as well as visit a Spanish secondary school. The students absolutely love the experience and it enables them to step outside of their comfort zone, as well as build independence and confidence.
GCSE Examinations in Spanish
We follow the Edexcel Spanish GCSE course. There are two tiers of entry for the final Spanish exam: foundation, which covers grades 1-5 and higher, which covers grade 4-9.
To be successful at GCSE level, students will be expected to write and respond spontaneously to questions on the above topics in a variety of tenses. We cannot predict which topics will feature in the exams at the end of Year 11, therefore it is crucial that all students spend time practising every week, preferably most days for a short period of time, in order to build confidence and a wide breadth of knowledge of the Spanish language.
Students will also be provided with opportunities to enhance their entrepreneurial and informed employability skills through presenting in small groups, research projects and information about careers and pathways available with studying languages.
At the end of the course, pupils will sit 3 exam papers: reading (25%), writing (25%) and listening (25%). There will also be a 7-12 minute (depending on tier) speaking assessment (25%).
Students will sit weekly vocabulary and grammar quizzes in class. At various times throughout the course, students will also sit an internally-assessed exam in order to show current progress and what they need to do to improve further.
Final decisions about tiers of entry are not made until the later stage of the course.
A LEVEL SPANISH
If they wish to continue Spanish to A Level, students will study a range of topical global issues as well as current affairs and develop key skills such as debating, translating and interpreting, researching and presenting, as well as extended writing. Studying a language makes you an adept communicator, both orally and in writing.
Additional skills gained through learning a language include the ability to gather, assess and interpret information; lead and participate in discussions and groups; organise work and meet deadlines; develop opinions and propose ideas and read pages of text and pick out the essential points. Even for students who do not wish to pursue a career in languages, having a language GSCE on their Curriculum Vitae will make them more attractive and employable when applying for jobs or college and university places.
CAREERS IN LANGUAGES
Language skills are in demand and can be used in almost any career, particularly within businesses that trade internationally.
Jobs directly related to a language degree include:
Jobs where a language degree or joint with another discipline, would be useful include:
WHAT ABOUT STudying other languages?
In line with government language learning and EBacc initiatives, a large number of students at NFS will study Spanish for 5 years, from year 7 to 11 and will gain a GCSE qualification. Some exceptions can be made on an individual need basis and some students may study a 2 year course instead.
We can run French as an extracurricular club, but at the moment, we do not have the timetable capacity to offer it as a GCSE option.
PARENTAL SUPPORT & Key tips for language learning
Repetition is key - spend 20-30 minutes every day practising vocabulary
Focus on the hardest words and phrases which are least like the English - spend more time on these
Use highlighters to colour code the easy, medium and difficult words or phrases
Test yourself or get someone to test you: cover up the words in English, uncover, then check.
Translate the words out loud into Spanish to help with pronunciation
Go back over previously learnt sections of vocabulary often
Record a list of the words on your phone in Spanish, with enough time left in between each one to play it back and translate the words out loud
Practise writing and speaking in different tenses often and try to memorise the structures for these
Use flash cards to learn the most difficult phrases, as well as to prepare for written and spoken assessments as they break the text down into shorter chunks and can be colour coded for visual clues
Go to www.kerboodle.com, login with your username and password and practise the listening activities on the topics of your choice
Do extra listening practice on http://www.bbc.co.uk/schools/gcsebitesize/spanish/
Ask Miss Tervit for some extra work to challenge you (extra GCSE & A Level work available)
May 2021
| M | T | W | T | F | WE |
| --- | --- | --- | --- | --- | --- |
| | | | | | 1 |
| 3 | 4 | 5 | 6 | 7 | 8 |
| 10 | 11 | 12 | 13 | 14 | 15 |
| 17 | 18 | 19 | 20 | 21 | 22 |
| 24 | 25 | 26 | 27 | 28 | 29 |
| 31 | | | | | |
Modern Foreign Languages News