Latest News
Latest News
First ever GCSE results!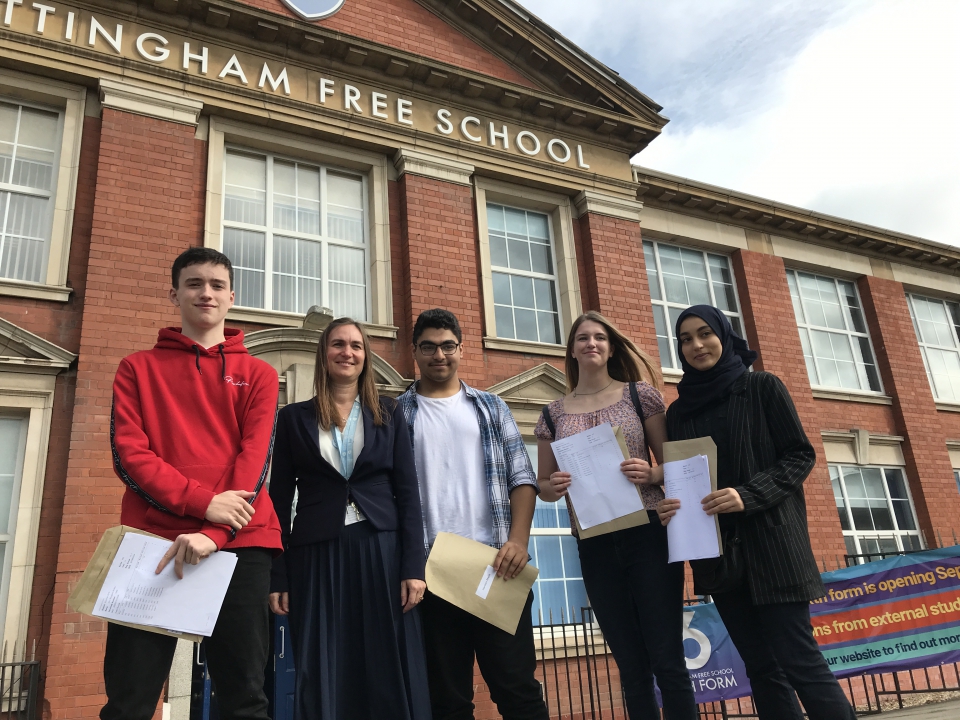 Nottingham Free School, the first free school to be established in the city, celebrated this morning as its original cohort of founding students collected their GCSE results, five years after the school first open its doors.
The original students who entered the school in Year 7 collected their results this morning, securing the school its first set of GCSE results.
Jenny Brown, Head of School, commented:
"It's quite surreal…it's an amazing feeling that all our students have done so well. To have seen the journey our first group of students have taken—we knew them really well in Year 6 before they started at NFS and to see the joy they have today as they collect their GCSE results is just fantastic. I'm incredibly proud of all the students, and the staff—who have done an amazing job over the last five years.

At the Year 11 Prom, the Head Boy and Head Girl made a speech describing how it's like being part of a family, and that is truly what it is like at Nottingham Free School."
Khuih Elgareidi was among the students collecting her GCSE results. Khuih achieved an astonishing TEN grade 9s and two grade 8s. Even more astonishingly, Khuih is only 15-years-old and has taken her GCSEs a year early due to her ability.
As well as being one of Nottingham Free School's highest achievers, Khuih will be one the founder students of NFS-16, Nottingham Free School's new sixth form, which is due to open this September. Khuih will be staying on at NFS to study for A-Levels in Maths, Further Maths, Physics and Chemistry and hopes to apply to Oxford or Cambridge.
Khulh commented:
"I did a lot of revision but I was also really well-prepared because we did lots of mock exams. I agree with the school's motto which has definitely helped throughout my time here."
Twins Sophie and Larysa Hayes were also two of Nottingham Free School's founding students, and both secured high grades—Sophie with six grade 9s and three grade 8s, and Larysa with six grade 8s, two 6s and two 7s.
Sophie said:
"I didn't think I was going to do that well. I'm so happy! I've got 9s in Spanish and science which is a bit of a mix."
The sisters will be separating after five years to take their A-Levels, with Sophie staying on at Nottingham Free School's new sixth form and Larysa heading to Beckett.
Ben Lipman-Bolton overcame his additional needs to secure a grade 5 in Science and grade 4s in Maths and English, well beyond his expectation. He hopes to undertake a plumbing apprenticeship.
Ben said:
"It just shows if you work hard, you definitely get what you deserve."
Ashfaq Rahman, Vice CEO of the Nova Education Trust, added:
"The Nova directors and Executive Team would like to congratulate our hard-working students and staff on another year of fantastic academic achievements. These results are the culmination of incredible hard work and perseverance from our pupils and unstinting support from their parents.

The teachers and operational staff have worked tirelessly to provide the best possible guidance and experiences for our pupils and we would like to say a heartfelt thank you to them for all their efforts. This is an exciting time for our students as they make important choices for their futures and we would like to wish them every success in all their endeavours."
August 2020
| M | T | W | T | F | WE |
| --- | --- | --- | --- | --- | --- |
| | | | | | 1 |
| 3 | 4 | 5 | 6 | 7 | 8 |
| 10 | 11 | 12 | 13 | 14 | 15 |
| 17 | 18 | 19 | 20 | 21 | 22 |
| 24 | 25 | 26 | 27 | 28 | 29 |
| 31 | | | | | |