Welcome to Year 11
Year 11
If you can dream it, you can do it.

Walt Disney
Easter Break Year 11 GCSE Revision Sessions
**Teachers are emailing students and parents if they are requesting attendance**

Reminders…
BE ON TIME AT MAIN RECEPTION
BRING EQUIPMENT
NO PHONES/EARPHONES IN SCHOOL
ONLY EAT OR DRINK WITH TEACHER PERMISSION
THANK YOUR TEACHER!
Year 11 Pastoral Team
Head of Year & SLT
Miss Sarah Cockayne & Mr Joel Tomasevic
Tutors
11P - Mrs G Johal (Mon - Wed) and Dr. E Marshall (Mon, Thurs, Fri)
11T - Mr C Phillips (Mon - Wed) and Miss J Carter (Thurs & Fri)
11C - Mrs S Wiken (Mon, Tues, Thurs, Fri) and Ms. Pyne (Wed)
11H - Mr G Landa
Tutor Time
9.15-9.35am Monday-Friday
Monday - Reflection on the previous week
Tuesday - Mental Health and Well-Being
Wednesday - Active Tutoring
Thursday - Year 11 Assembly
Friday - Active Tutoring
Directed Study
8.30-9.15am (11C/T Wednesday 11P/H Friday)
During year 11 students will have a primary focus during directed study of careers. Students will explore the different post 16 pathways and how to complete applications. There will also be statutory lessons delivered by their tutors on PSHE topics.
Core Personal Development Lessons
8.30-9.15am (11P/H Wednesday 11C/T Friday)
These lessons run every week. The lessons contain a rotation of statutory Religion, Philosophy and Ethics and PSHE topics. All students must attend their core PD lesson every week.
GCSE Examinations Timetable 2022
Support and Study Timetable Spring 2022
Please contact Miss Cockayne or Mr Tomasevic if you wish your child/children to attend any of the sessions.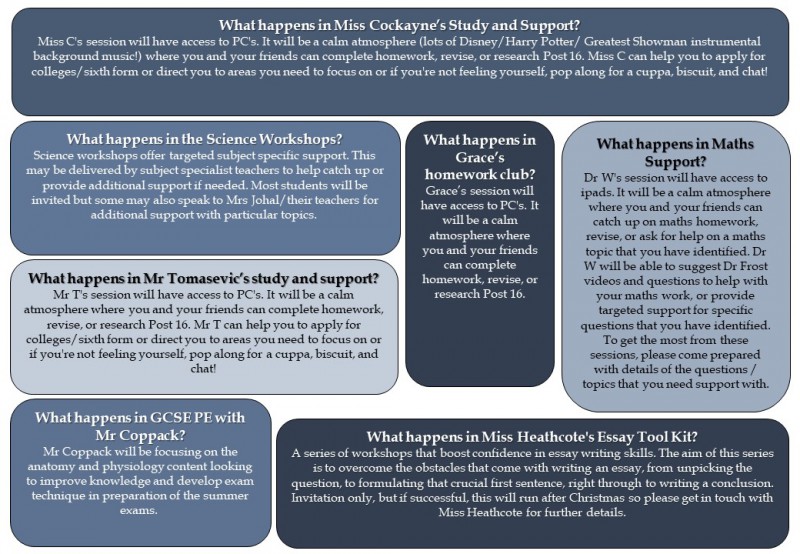 Well-being & Support
In addition to the support and study sessions we are running there will also be workshops on the following topics:
Worry Management (Date TBC)
Well-Being Hacks (Date TBC)
These workshops are not compulsory and students will be able to sign up for them during tutor time. Spaces are limited.
An external provider from Mental Health Support Teams in Nottingham City (MHST) will be delivering the workshops.
We will be repeating the workshops at the start of the Spring Term.
Year 11 Teaching and Assessment
"10-Week Plans" (Feb-May 2022)
Teaching and Assessment Y11 Half Term 3 (Jan-Feb 2022)
Teaching and Assessment Y11 Half Term 3 2022 (Printable Copy)
Equipment
Students should arrive at school well equipped and prepared for the day ahead. Parents and children together should ensure that they have the following everyday:
Pens x 2,
Pencil,
Ruler,
Rubber,
Sharpener,
Green pen,
Whiteboard pen,
Scientific calculator,
Workbooks needed for the days lessons,
Revision guides for study lessons,
School diary (issued termly).
Uniform
Black formal shoes (boots are not part of the uniform policy)
Black trousers or skirt (with the school logo),
White shirt,
Jumper (optional),
Blazer,
Tie,
Dark coloured outdoor jacket for bad weather (this must be removed when inside).
No jewellery (except one pair of stud earrings if required). There should be no facial piercings.