Welcome to Year 10
Year 10
Head of Year and SLT
Miss N Harmer-Weston and Mr. J Tomasevic
Tutors
10C - Miss S Pyne
10H - Mr R Sadler-Penn
10P - Mr N Strachan
10T - Mrs P Barratt
We pride ourselves in a real sense of community, respect and understanding for each other and aim to work hard and be kind all of the time. We endeavour to ensure that students work together and help each other to achieve their full potential academically, morally and socially.
Tutor Time
9:15am-9:35am Monday-Friday
Monday: Reflections on the previous week (behaviour and attendance)
Tuesday: Personal Development based on weekly theme
Wednesday: Assembly
Thursday: Personal Development based on weekly theme
Friday: Weekly quiz/challenge
Daily Timetable
Below are the arrival times for Year 10 students:
Monday: Tutor Time 9:15am
Tuesday: 10C/10H: 8:30am if you are invited for Directed Study. Otherwise, 9:15am.
10P/T: Personal Development Lesson 8:30am
Wednesday: Tutor Time 9:15am
Thursday: 10P/10T: 8:30am if you are invited for Directed Study. Otherwise, 9:15am.
10C/H: Personal Development Lesson 8:30am
Friday: Students for off-site PE 8:15am. Students for on-site PE 9:15am
Directed Study
8:30am-9:15am (10C/H Tuesday, 10P/T Thursday)
Directed Study is a flexible session which supports students' academic attainment. These sessions are usually invite only, however the sessions are occasionally used to support the PSHE curriculum. In this case, the whole year group may be requested to attend on certain dates (this can be seen on the half-termly calendar below and students will be given advance notice in tutor time).
Personal Development Lessons
8:30am-9:15am (10P/T Tuesday, 10C/H Thursday)
These lessons run every week. The lessons contain a rotation of statutory Religion, Philosophy and Ethics and PSHE topics. All students must attend their Personal Development lesson every week.
Extra-Curricular Activities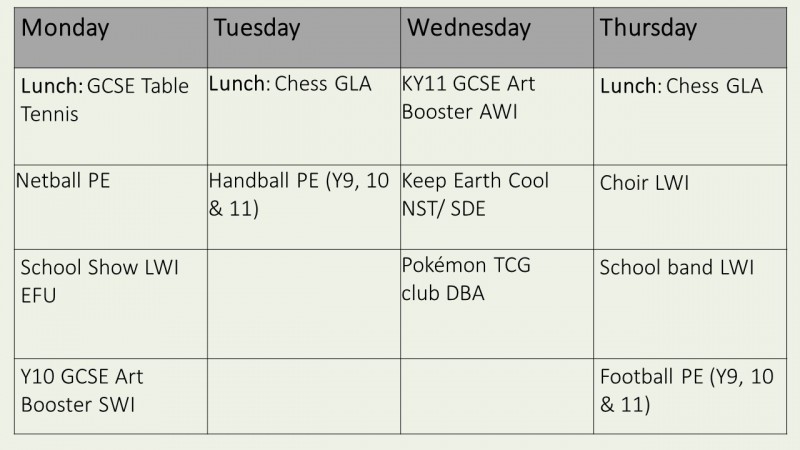 Half-Termly Calendar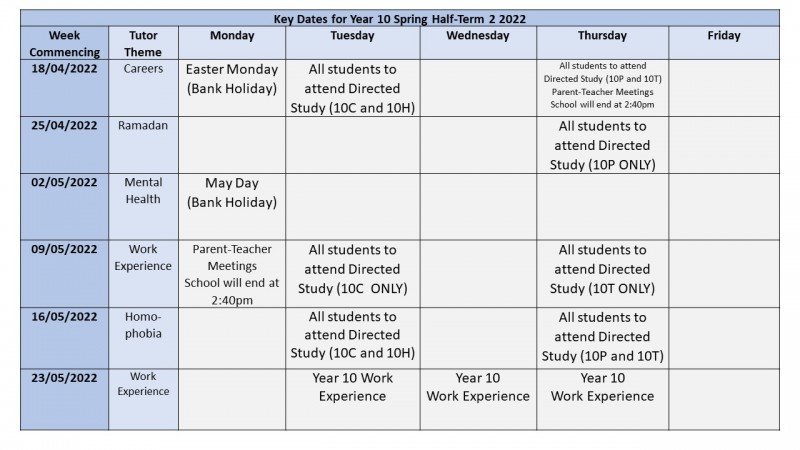 Year 10 Vision
At Nottingham Free School, Year 10 students aspire to be courageous individuals who lead by example and demonstrate respect for all. Our core values to Work Hard and Be Kind will ensure they are able to lead themselves proudly and purposefully into the next steps of their educational journey. They will continue to develop and grow as respectful and responsible individuals, within a culture of high expectations and a friendly, supportive ethos. Their continued success is paramount; working together through constant reflection and improvement, students and staff will ensure they are able to maximise individual potential as well as that of others, so that they are developed into highly employable young people.
Year 10 Character Traits
In line with our school and year group vision, Year 10 students have two character traits which they focus on throughout the year. This year our traits are respect and courage.
The Tutor
The tutor is responsible for supporting the pupils in their care in all aspects of school life; academic, social and personal. They, alongside Heads of Department and subject staff, will monitor academic progress using data information circulated on a regular basis. We have a team of tutors, who are all teaching staff at the school. Tutors register their tutor set every morning and have time to discuss any concerns and prepare students for the day ahead.
We follow a weekly schedule for tutor time activities which provides students with an array of opportunities as well as support and guidance, in the following areas: attendance, positive and negative points, target setting and best achievement, homework and organisation, equipment, uniform, behaviour, active discussion time, quizzes and much more! Every week, one student from each tutor set is nominated as Star of the Week for achieving the most positive points the previous week. Every Friday, the tutor set with the best attendance overall are rewarded with flapjacks made by our kitchen staff.
The Head Of Year
All of the tutor sets and tutors are led by our Head of Year, Miss N.Harmer-Weston. The Head of Year is responsible for co-ordinating the work of the year group as a whole and monitoring overall pastoral care, behaviour and progress.
The Head of Year ensures that the whole Year group work together effectively to ensure that all students feel safe and happy at school, whilst maintaining our school ethos and high standards of behaviour by working alongside the teaching staff. The Head of Year also helps to organise and oversee assemblies.
Attendance
Attendance is a key factor in students' success at school. We monitor attendance very closely and students are expected to attend school every day and arrive on time each morning. Where possible, medical appointments should be made outside of school hours. An overall attendance of 96% or above will ensure that your child is making the best progress possible - anything below this is a cause for concern and your child will be missing key lessons and work.
Equipment
Students should arrive at school well equipped and prepared for the day ahead. Parents and children together should ensure that they have the following:
Pens x 2,
Pencil,
Ruler,
Rubber,
Sharpener,
Green pen,
Whiteboard pen,
Scientific calculator,
Workbooks needed for the days lessons,
Revision guides for study lessons,
School diary (issued termly).
Uniform
Black formal shoes (boots are not part of the uniform policy)
Black trousers or skirt (with the school logo),
White shirt,
Jumper (optional),
Blazer,
Tie,
Dark coloured outdoor jacket for bad weather (this must be removed when inside).
No jewellery (except one pair of stud earrings if required). There should be no facial piercings.