The school is now closed except for students of keyworkers. During lockdown the school day and for online lessons is 9am - 3.30pm. Please see the student and parent portal for further information.
Book of the Month
Book of the Month
February 2021
England is at war. Growing up in a lighthouse, Pet's world has been one of storms, secret tunnels and stories about sea monsters. But now the clifftops are a terrifying battleground, and her family is torn apart. This is the story of a girl who is small, afraid and unnoticed. A girl who freezes with fear at the enemy planes ripping through the skies overhead. A girl who is somehow destined to become part of the strange, ancient legend of the Daughters of Stone ...
It is 1950. In a devastating moment of clarity, Margery Benson abandons her dead-end job and advertises for an assistant to accompany her on an expedition. She is going to travel to the other side of the world to search for a beetle that may or may not exist.
Enid Pretty, in her unlikely pink travel suit, is not the companion Margery had in mind. And yet together they will be drawn into an adventure that will exceed every expectation. They will risk everything, break all the rules, and at the top of a red mountain, discover their best selves.
January 2021
Big hearted and dizzyingly flamboyant, Atta's verse novel about a black gay teen reclaiming his identity as a drag artist is an outspoken triumph from the opening couplet to the last.
This is not about being ready, it's not even about being fierce, or fearless, it's about being free.
Michael waits in the stage wings, wearing a pink wig, pink fluffy coat and black heels.
One more step will see him illuminated by spotlight.
He has been on a journey of bravery to get here, and he is almost ready to show himself to the world in bold colours ...
Can he emerge as The Black Flamingo?
This incredible Young Adult book was shortlisted for the Carnegie Award and is a total joy!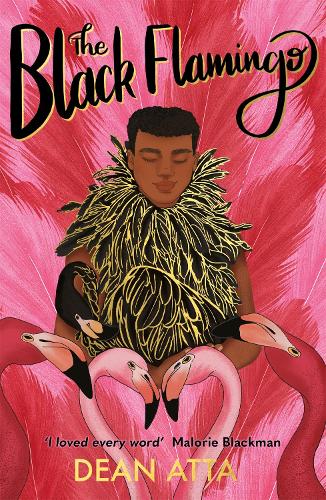 A short, essential introduction to Black British history for readers of 12+ by award-winning historian and broadcaster David Olusoga.

When did Africans first come to Britain?
Who are the well-dressed black children in Georgian paintings?
Why did the American Civil War disrupt the Industrial Revolution?

These and many other questions are answered in this essential introduction to 1800 years of the Black British history: from the Roman Africans who guarded Hadrian's Wall right up to the present day. This children's version of the bestseller Black and British: A Forgotten History is Illustrated with maps, photos and portraits.
December 2020
On The Come Up by Angie Thomas, sees the award-winning author of The Hate U Give return with a powerful story about hip hop, freedom of speech – and fighting for your dreams, even as the odds are stacked against you.
Bri wants to be one of the greatest rappers of all time. As the daughter of an underground hip hop legend who died right before he hit big, Bri's got massive shoes to fill. But when her first song goes viral for all the wrong reasons, Bri finds herself at the centre of controversy and portrayed by the media as more menace than MC. And with an eviction notice staring her family down, Bri no longer just wants to make it – she has to. Even if it means becoming the very thing the public has made her out to be.
The Hate You Give is so popular with our students and we cannot wait to hear what you all think about this novel by the same author. Let us know!

November 2020
We might all need a bit of cheering up this November so here is a bit of escapism with the new David Walliams novel. It isn't released until November 5th so grab your copy then and let us know what you think. We have so many David Walliams fans in the school and I am sure this Book of the Month will be a popular choice.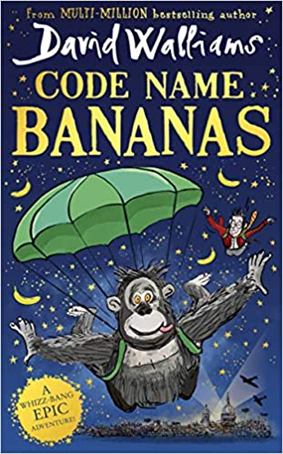 Go back in time with No. 1 bestselling author David Walliams for a whizz-bang epic adventure of action, laughter and secret plots – and the extraordinary friendship between a little boy and a huge gorilla that just might save the day…
1940. Britain is at war with Nazi Germany.
Eleven-year-old Eric spends his days at the place that makes him most happy: London Zoo. And there's one animal in particular he loves: Gertrude the gorilla.
With bombs falling all over London, Eric must rescue Gertrude.
Together with his Uncle Sid, a keeper at the zoo, the three go on the run. But while hiding out at the seaside they uncover a top-secret Nazi plot…
October 2020
We are excited to introduce you to two books this month; both about very different struggles that the young protagonists have to endure and overcome. Both are emotional, heart-wrenching, and ultimately, uplifting.
Verse novel, One, by Sarah Crossan, won the Carnegie Medal for children's literature in 2016 and The Boy at the Back of the Class won the Waterstones Children's Book prize in 2019.

Grace and Tippi are twins. Not just twins but conjoined twins, sharing the lower half of their bodies. Somehow they have always managed to be individuals whilst also part of each other. Now teenagers, Tippi and Grace are facing increasing difficulties. They are off to school for the first time, meeting new experiences, friendships and relationships. While Tippi longs for things to remain the same, Grace yearns for something more. Falling in love with classmate Jon she begins to imagine a future full of romance and love. But will there be a future for Grace and Tippi? When a desperate decision needs to be taken the girls lives must change forever.
Suitable for readers age 12+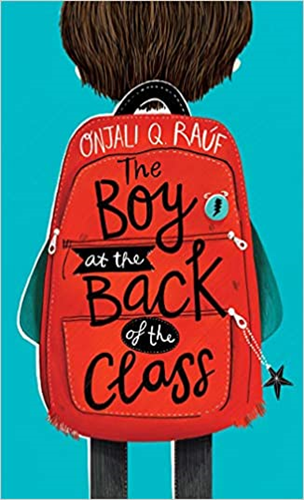 Told with heart and humour, The Boy at the Back of the Class is a child's perspective on the refugee crisis, highlighting the importance of friendship and kindness in a world that doesn't always make sense.

There used to be an empty chair at the back of my class, but now a new boy called Ahmet is sitting in it. He's nine years old (just like me), but he's very strange. He never talks and never smiles and doesn't like sweets - not even lemon sherbets, which are my favourite!

But then I learned the truth: Ahmet really isn't very strange at all. He's a refugee who's run away from a War. A real one. With bombs and fires and bullies that hurt people. And the more I find out about him, the more I want to help. That's where my best friends Josie, Michael and Tom come in. Because you see, together we've come up with a plan. .
Particularly suitable for struggling or reluctant readers
Onjali Q. Raúf is the founder of both O's Refugee Aid Team (which works to deliver emergency aid to refugees in northern France and other parts of Europe) and Making Herstory (which mobilises men, women and children from all walks of life to tackle the abuse and trafficking of women and girls in the UK and beyond).
September 2020
Welcome to our first Book of the Month for this academic year! We have so many wonderful reads planned for the year and begin with an iconic story of troubled youth, The Outsiders by SE Hinton.
"We are, as a species, addicted to story. Even when the body goes to sleep, the mind stays up all night, telling itself stories." - Jonathan Gottschall, The Storytelling Animal
The original teenage rebel story.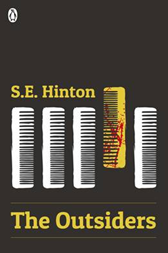 The Outsiders by S E Hinton is a ground-breaking, timeless story by a brilliant writer.
'. . . the hand at the back of my neck was strong. I'm drowning, I thought . . .'
The Socs' idea of having a good time is beating up Greasers like Ponyboy. Ponyboy knows what to expect and knows he can count on his brothers and friends - until the night someone takes things too far.
More than a story of hatred and violence, also a story of loyalty and friendship as teenagers of the urban slums search for personal dignity and a place in the world.
Suitable for all ages
S. E. Hinton was only seventeen when The Outsiders was first published in the USA in 1967. She grew up in Tulsa, Oklahoma, where the story takes place, and lived in a borderline neighbourhood mixing with both greasers and socs. This experience helped her to understand the boys about whom she writes. The Outsiders was made into a major film, directed by Francis Ford Coppola.
We are so excited to announce that we are launching a Nottingham Free School Book of the Month! This means that we will carefully choose one or two books per month which we hope will be read by as many students, parents/carers and staff as possible.
We aim to build a reading community. The benefits of reading a shared text are many:
book choices that promote our school values of Work Hard, Be Kind
opportunities to discuss and share ideas about the book with family, friends and staff
insight into different cultures and time periods
books provide connections to other authors, genres, and ideas
July 2020
Welcome to our first ever Books of the Month! We are kicking off with two newly published books which we hope you will love! The Great Godden is by Meg Rossoff, an established author who has written many successful books for children and teens, her most well-known being How I Live Now. Anthony McGowan's short novel Lark is the winner of this year's Carnegie Medal, awarded for the best new fiction for young people.
Both of these books will hopefully make you think and make you feel. We have chosen them because not only are they great stories but they both deal with universal issues of love, growing up, family, and identity, to name just a few!
As the months go on, we will introduce you to more newly published fiction as well as long established classics. Some of the books will be particularly aimed at young people, some will be well-known books that people revisit time and time again, some will be quick reads, some will be a bit more substantial. But what they will all have in common, is the ability to get you thinking, dreaming and talking about stories!
"Storytelling is the most powerful way to put ideas into the world."– Robert McKee, professor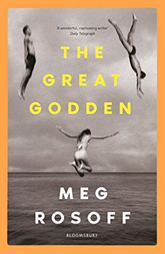 This is the story of one family, one dreamy summer - the summer when everything changes. In a holiday house by the sea, in a big, messy family, one teenager watches as brothers and sisters, parents and older cousins fill hot days with wine and games and planning a wedding. Enter the Goddens - irresistible, charming, languidly sexy Kit and surly, silent Hugo. Suddenly there's a serpent in this paradise - and the consequences will be devastating. From bestselling, award-winning author Meg Rosoff comes a lyrical and quintessential coming-of-age tale - a summer book that's as heady, timeless and irresistible as Bonjour Tristesse and I Capture the Castle but as sharp and fresh as Normal People.
The Great Godden is aimed at Young Adults (YA)
This means it has content which is more mature than children's fiction eg possible swearing, sex references. Suitable for Year 9 and older
"From the trailblazing Young Adult author comes a shimmering, atmospheric coming-of-age tale with a lyrical, timeless quality. Filled with the heat and illicit passion of long summer days, The Great Godden resounds with innocence lost and lessons hard won. A masterly novel from a unique fictional voice." Waterstones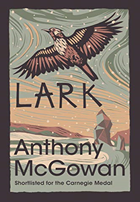 Things are tense at home for Nicky and Kenny. Their mum's coming to visit and it will be the first time they've seen her in years. A lot has changed since they were little and Nicky's not so sure he's ready to see her again. When they head for a trek across the moors to take their minds off everything, a series of unforeseen circumstances leaves the brothers in a vulnerable and very dangerous position. There might even be a chance that this time not everyone will make it home alive...
Winner of the Carnegie Medal for children's fiction 2020.
"A standalone masterpiece" — Julia Hale, Chair of Judges, 2020 CILIP Carnegie Medal
This book is aimed at Year 7 and up (adults love it too!) It's both funny and very emotional.
This Thursday 16th July at 8pm - An evening with CILIP Carnegie Medal winning author Anthony McGowan (@AuthorsAloudUK, @ASCELUK)
Join Authors Aloud UK and Barrington Stoke publisher live as we celebrate Anthony McGowan's recent Carnegie Medal winning success for his wonderful book Lark.
Anthony will be talking about the ideas behind the book and the others in The Truth of Things series, as well as giving us a reading or two and answering your questions. As Anthony says: "On one level, Lark is a simple adventure story. Lark is also a story about the power of stories and the way they weave through our lives (for ages 13+, teachers and librarians). It will be hosted on Zoom.
Watch this space for questions and comments on The Great Godden and Lark.
If you have any comments or suggestions for book choices please do e-mail Miss Britten on abritten@nottinghamfreeschool.co.uk. It would be wonderful to hear your ideas.
March 2021
| M | T | W | T | F | WE |
| --- | --- | --- | --- | --- | --- |
| 1 | 2 | 3 | 4 | 5 | 6 |
| 8 | 9 | 10 | 11 | 12 | 13 |
| 15 | 16 | 17 | 18 | 19 | 20 |
| 22 | 23 | 24 | 25 | 26 | 27 |
| 29 | 30 | 31 | | | |