All children must stay at home. We are only open for emergency supervision for those children eligible for this provision. Contact the school office for details.
Latest News
News
Maths Challenge Preparation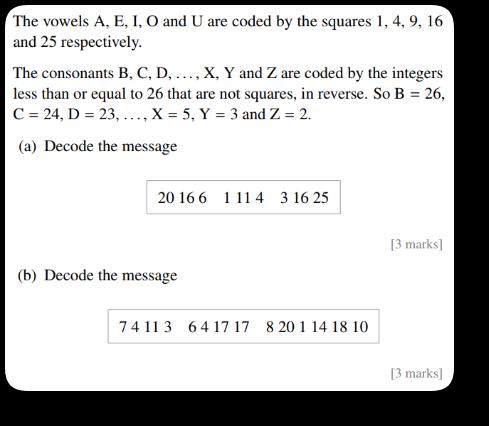 Students have already opted for the maths enrichment and this will be the basis in forming our schools team for the regional finals of the UKMT Team Maths Challenge on Wednesday 21st March. This challenge will be entered by a team of 4 year 8's and 9's and requires students to tackle a variety of timed, competitive and engaging mathematical activities while developing teamwork and communication skills, such as a group round, cross number, shuttle and team relay; why not try the problem above taken from the group round? After this there will be the opportunity for our top 40 students from each year group to enter the Intermediate (Year 9/10) and Junior (Year 7/8) maths challenges held on 1st February and 26th April respectively. Last year saw our first student, Dilan Lehan, qualify for the next round and we are excited to see what may happen this year. We wish all students who take part in these challenges next term the best of luck.
More News Stories
March 2020
| M | T | W | T | F | WE |
| --- | --- | --- | --- | --- | --- |
| | | | | | 1 |
| 2 | 3 | 4 | 5 | 6 | 7 |
| 9 | 10 | 11 | 12 | 13 | 14 |
| 16 | 17 | 18 | 19 | 20 | 21 |
| 23 | 24 | 25 | 26 | 27 | 28 |
| 30 | 31 | | | | |