School Show
School Show
Schools Will Rock You!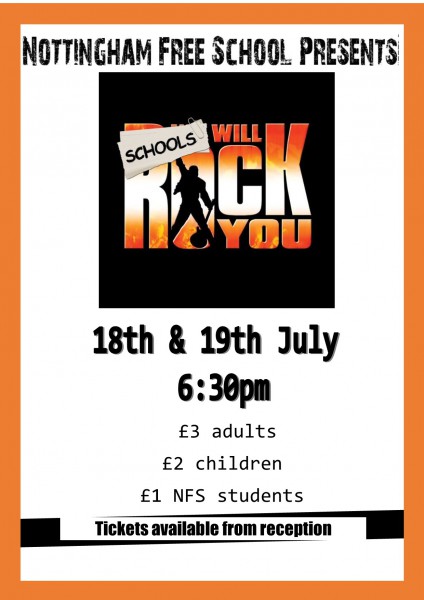 Set in a dystopian future, where robotic teens known as Ga Ga Kids are brainwashed into listening to the sound of synthesised pop, issued by Globalsoft Corporations and ruled under the power of Killer Queen and her army. Unfortunately for rebel teen; Galileo this is not the life for him, he longs to hear real music, rock music and he will not stop the fight until he finds it! A musical featuring Queen's greatest hits such as, Radio Ga Ga, One Vision and I Want to Break Free, this is one show that is bound to get you clapping and singing along!
Cast
Meet cast member number one; Christina.
She is our heavy metal punk rocker who loves being one of the bohemians. We asked her a few questions in the run up to the show.
What is your favourite band? My favourite band is Destiny's Child, they are just too easy to sing along too!
What is your favourite Queen song? I would have to say my favourite song by Queen is One vision, I love the last line 'Fried chicken'.
What is your favourite scene in the show? In my opinion the best scene in the show is when Britney dies. I find it so funny even though she is my side kick in the show.
Why should people come and see the show? Personally I feel you should see the show because it's good entertainment for all the family. The students have worked incredibly hard and you can come and witness the talent at NFS.
- Faith (Year 7)
September 2021
| M | T | W | T | F | WE |
| --- | --- | --- | --- | --- | --- |
| | | 1 | 2 | 3 | 4 |
| 6 | 7 | 8 | 9 | 10 | 11 |
| 13 | 14 | 15 | 16 | 17 | 18 |
| 20 | 21 | 22 | 23 | 24 | 25 |
| 27 | 28 | 29 | 30 | | |